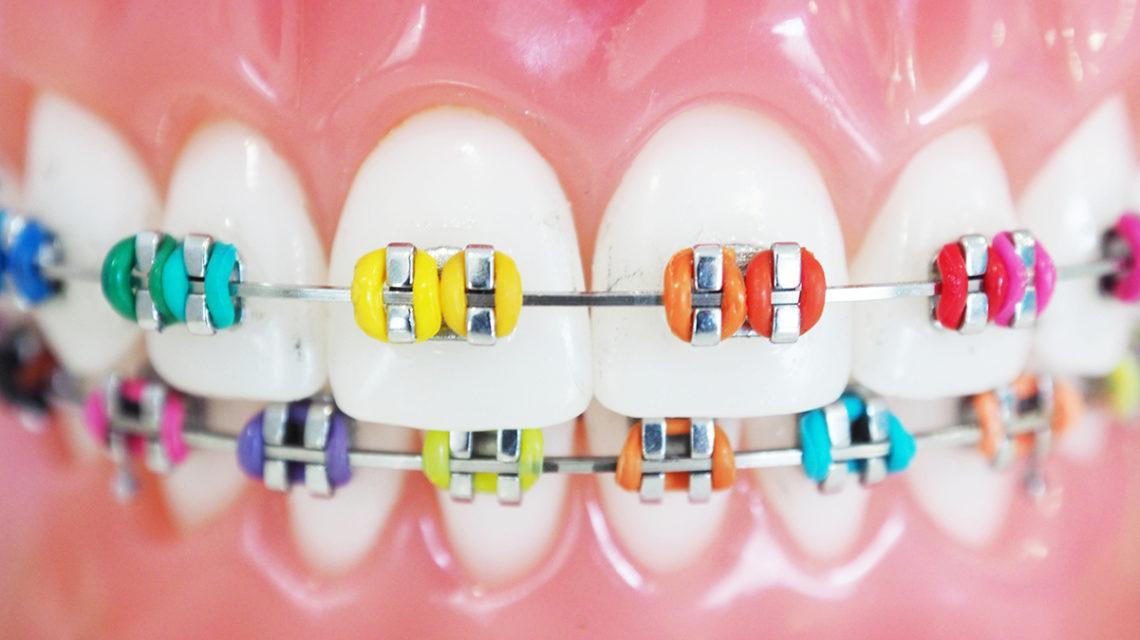 Choosing the best brace colours is admittedly, not always easy!  Orthodontic appliances can be uncomfortable and some treatments like the traditional metal braces can be downright unsightly.
Fortunately, elastic bands for braces provide a chance to make the most of your braces. Colours ranging from the softest pink to the boldest blue let you customize your look.
By choosing the right colours for your braces, they can serve as a brilliant canvas that accents your smile.
Who says braces can't be fun?
What Are Braces Colours?
When you hear about braces colours, the term is probably referring to the tiny rubber bands that adorn the brackets of metal braces.
An orthodontist attaches brackets directly to your teeth with special dental cement. These brackets are often usually made from metals like stainless steel or titanium alloy. They have a slot across the front which the archwire slides through. When this wire is tightened, it puts snug pressure on your teeth to help gently guide them into better alignment. The brackets ensure that the wire stays securely in place.
But to make sure that the wire doesn't slip out of the brackets, your orthodontist will wind orthodontic ligatures or ties, also known as rubber bands or elastic bands, around each bracket after the archwire is placed.
These simple little bands come in a huge array of colours; most orthodontic practices offer dozens of vibrantly coloured bands to let their patients customize their smiles.
Besides the bands, there are other ways braces can come in different colours.
What colours can you get for braces?
The sky's the limit when it comes to your options for choosing braces colours.
Most orthodontists offer a dozen or more colours for the elastics. You'll have to check with us which colours we have to offer!
Which Are The Best Braces Colours?
There's no one braces colour that's perfect for everyone.
To choose the right colour for your adult braces (or your kid's), you should consider factors like:
Age

Personal preference for brightly coloured braces or a discreet look
Young teens and kids will prefer to create a colourful smile with their braces elastic bands that reflects their personal interests. This makes them feel more actively involved with their treatment and gives them something to look forward to at each orthodontic adjustment appointment.
Older braces patients may prefer a more mature appearance with tooth-coloured braces or even clear aligners that allow them to more easily hide the fact that they have braces.
When choosing elastic bands for your own braces, keep in mind that the right colours can actually help your teeth look whiter. The wrong colours, on the other hand, can bring out the yellow and dark tones in your tooth enamel.
For brighter-looking teeth, choose elegant cool-coloured bands such as:
Navy Blue

Grey

Dark Purple

Pearl 
Avoid colours like bright red, orange, and yellow since these can make teeth look darker in contrast. You should also avoid black-coloured bands if having whiter teeth in braces is your goal; although black is a dark colour, it's a little too extreme and can make your teeth look like they have black stains on them.
What Color Braces Should I Get?
The braces colour that's right for you depends on what you want to achieve with your braces look (and, of course, the braces cost you can afford, it won't be the same to have braces with colour ties than clear aligners). 
Do you want to express your creativity?
Celebrate a special event?
Coordinate with an upcoming holiday?
Make it look like you're not wearing braces?
Decide what kind of look you want to go for and then select one colour or a combination of colours that will help you achieve that goal.
Here's one idea to provide you with a little inspiration: try picking elastic band colours that complement your eye colour.
Brown eyes - choose green-coloured bands

Blue eyes - choose pink, blue, or lilac-coloured bands

Green eyes - choose purple, red, green, or orange-coloured elastic bands
Want to get serious about matching your braces colour to your looks?
Try matching your orthodontic ligature bands to complement your skin tone.
Braces Colors For Girls—The Perfect Color Combo for Her Smile
For most girls, appearance and customizing their look to express their individuality is important at any point in life. But looks are often of the utmost importance during those critical teen years, which also happens to be when many girls get braces.
If you need to help choose orthodontic elastic bands for your daughter, remember that classic princess pink isn't always the answer.
Kids go through many phases in their individual style preferences and braces rubber bands are the perfect outlet for creative self-expression. After all, the bands are temporary and they get changed out at each orthodontic visit. It's not the same thing as dyeing hair or getting a tattoo! Let your daughter have fun and pick the colour combo that suits her best at the time.
Over the course of orthodontic treatment, a girl might go from a pretty-in-pink scheme to bold purple, to an edgy black and neon-blue pairing, to school spirit red and yellow, to rose gold. There are lots of opportunities for a girl like your daughter to change up her look.
Take pictures of every one of your little girl's colour choices as she progresses through her treatment. Not only will these show how her teeth have changed over time, but it'll be fun to look back on each snapshot that captures each phase of your daughter's developing personality.
When it comes to choosing the perfect feminine colour combo for your own braces, you can take any of the principles shared in this article and just run with it! Choose whatever colour scheme suits your personality and interests the best.
If you'd prefer to keep your braces as discreet as possible, then choose either tooth-coloured ceramic braces or clear aligners to straighten your teeth.
But if you want to broadcast your personality to the world, then go to town with customizing your elastic bands!
Braces Color Combinations
One of the best things about choosing braces colours for your ligature bands is that you're not limited to just one.
You can request a combination of colours anytime you want to celebrate with a colourful flair! Request any combination of red, white, green, silver, or gold elastic bands to spread some holiday cheer when you flash your smile.
Want to get spooky for Halloween? Black and orange are a popular combination of band colours at that time of year.
You can't go wrong with red, white, and blue on your braces if you're feeling patriotic.
Love hunting or want to show your support for the Armed Forces? Ask for a combination of green, brown, grey, or beige bands to create a camouflage pattern effect.
Show off that school spirit by rocking a combination of your alma mater's colours.
Dive head-first into the game season by wearing the colours of your favourite sports team.
You can also mix and match colours to celebrate seasons with warm tones like maroon, orange, and gold for autumn or pale pink and fresh green to welcome the spring.
Ready to hit the beach? Bring a tropical grin by wearing yellow and aqua bands that recall blue waves and plenty of sunshine.
The possibilities are truly endless when it comes to colourizing your smile! In fact, combining colours in your elastic bands are often preferable to wearing just one colour. 
Just remember that it's okay to experiment; your temporary braces bands will be changed out soon, anyway, but a mouthful of straight teeth is forever.
So whether you have colorful braces or invisible aligners, wear your smile with confidence!