ORAL HYGIENE
We are proud to provide a oral hygiene service to our patients. Although you have braces your teeth can still be cleaned by the oral hygienist. Dr. Ghabrial advice patients to have a professional cleaning at least twice a year. Patients that struggle with oral hygiene will need more regular cleanings. Oral hygiene instructions will be given to help patients.
Bad Oral Hygiene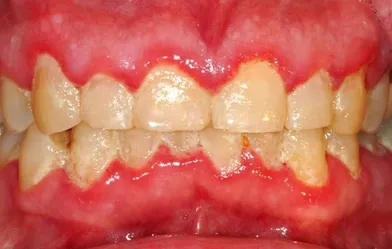 Gum disease, which is seen as swollen, red and bleeding gums; your gums become inflamed. If your gums are swollen and inflamed, your teeth will not move as easily and you will experience more discomfort during your treatment.
Good Oral Hygiene
Healthy teeth, as well as healthy gums which are light pink with no swelling.
View our Printable Oral Hygiene Instructions
---
Current Products that we Recommend:
NEW : Now available! The Philips Sonicare for kids
Designed to develop better brushing habits through:
KidTimer
Helps to Increase brushing time slowly over 90 days, building towards the Orthodontist specialist recommended 2 minutes
2 Kid-friendly power modes
2 Kid-friendly power modes adapts to different ages providing a gentle cleaning that's ideal for different ages. There is a low mode for ages 4 and up and high mode for ages 7 and older
Age-appropriate brush heads
2 brush head sizes that are specifically designed to gently clean and protect teeth at key developmental stages
KidPacer
Delivers fun and engaging musical tones that encourage kids to brush the front and back of both upper and lower teeth
Multi grip design
Ergonomically designed to enable parents and kids to brush together or own their own
Available at our Oral Hygiene Shop!